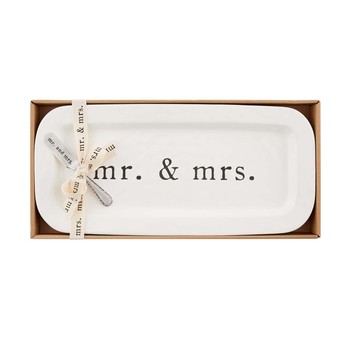 Mr. & Mrs. Hostess Set
Unit #40700375
This Mr. & Mrs. Ceramic Tray Set is a great gift for any husband-and-wife duo. The tray features a debossed sentiment ceramic tray and arrives with stamped silver plate spreader. The tray measures 7 1/2" x 16" and reads "mr. & mrs.". The spreader measures 5 1/2" and reads "mr. & mrs."
Dimensions: tray 7 1/2" x 16" | spreader 5 1/2"
Material: DOLOMITE
Care Instructions: DISHWASHER SAFE MICROWAVE SAFE
This item is available for shipping only.