March 25, 2014 | Friends and Family | Leoness Cellars
Create an Alfresco Party
Spring time ushers in the opportunity for delightful dining and mingling times with family, friends, food and wine outdoors.
We've included a couple alfresco party tips and we've selected three easy-to-drink wines to complement your alfresco-themed parties.
Get in the spirit with fresh flower centerpieces, lemonade, candles and tree- strung lights. Use clear bottles or glass vases for flowers to help guests feel close and connected at the table.
Grilled Fruit and Other Alfresco Ideas
Make-ahead dinner, such as pasta with tomatoes and fresh herbs and cold summer soup ensure low-maintenance party preparation. For dessert, skewer fruit chunks onto sturdy sprigs of rosemary to add flavor and flair. Then have guests grill their own in a basket over the fire pit. (A barbecue grill works, too.)
Alfresco Trio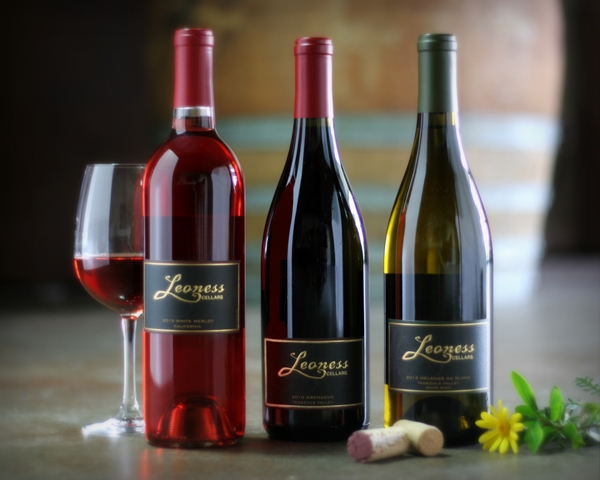 We've hand-selected three crisp and refreshing wines that pair with most any patio party snacks and meals.
White Merlot
Bursting with delicious aromas and flavors of fresh strawberries, raspberries and cherries, enjoy it chilled as an aperitif or pair with barbecue, seafood, or Mexican food. For a light dessert pairing, try strawberry cheesecake yogurt blended with whipped cream and fresh strawberries!
Melange de Blanc (Rhone-style white wine blend)
A blend of Grenache Blanc, Viognier, Roussanne and Marsanne, this crisp and well-balanced wine offers beautiful aromas and flavors of white peach and apricot with hints of pear and tea leaves. Enjoy with pastas covered with rich creamy sauces The stone fruit flavors in this wine wrap themselves around the richness of the sauce. Pair with grilled Whole Red Snapper, Ratatouille, and chicken dishes as well as various cheeses and sandwiches.
Grenache (A warm-climate alternative to Pino Noir)
Soft and supple, our 2010 Grenache is medium-bodied with bright red cherry and raspberry aromas and flavors, complemented by hints of black pepper and tobacco. Grilled meat and spiced dishes such as Chicken, steak and lamb pair well.
An important point to remember when serving Grenache is temperature. Remember to "keep it Cool." If served too warm, the alcohol might seem to be out of balance. White or Rose Grenache should be served chilled, but not lower than 45°F (8°C). Red and sweet Grenache should be served between 55 and 65°F (14 to 18°C)
Comments
Commenting has been turned off.