November 18, 2016 | Friends and Family | Leoness Cellars
Seasonal Leoness Wine Pairings
It's that time of the year again, when the weather becomes a little crisper, the scents in our homes become a little warmer and family and friends begin to gather! With staple foods that are uniquely attributed to the cooler weather, most of us have a good idea of what we will be savoring during this fall season, yet deciding what wine pairs well with specific dishes is still not so easily answered. Let us put that to rest and fill you in on what Leoness wines will perfectly complement your favorite fall foods!
Red Wine lovers are sure to turn to Pinot Noirs- and believe it or not, Chardonnay, to perfectly pair with an oven roasted turkey. But it is our 2013 Grenache, medium-bodied with bright raspberry and cherry fruit, complemented by hints of tobacco and spice that is a great alternative to the classic centerpiece of the feast. Blended with small amounts of Mourvedre and Cinsault for added depth and structure, aged for 20 months in small French oak barrels, this wine pairing is more a hit than a miss! Other great pairings include our own "blend of dreams," 2013 Mélange de Reves, an ode to the wines of Rhone Valley in France. The special blend of Syrah, Cinsaut, Grenache and Mourvedre, with lively aromas and flavors of black cherry and plum, hints of smoky tobacco and black pepper that goes well with several different menu options.
If you're more of a sweet wine lover, look to our 2014 Lana Lisa (Late Harvest Riesling). It is the white wine you'd want to pair with your turkey and all its trimmings. Fermented in small stainless steel tanks, it offers rich peach and apricot flavors with a subtle honey-like component. The bright flavors of this wine work as a palate cleanser so you can continue to feast on the gravy, stuffing, mashed potatoes, yams and cranberry sauce you waited all year long for.
End your meal with the perfect pumpkin pie, or any kind of dessert for that matter, with our 2015 Riesling, harvested from a small vineyard in the Temecula Valley, it has distinctive stone fruit aromas and flavors that are complemented by hints of fresh grapefruit and lime. It is balanced with lively acidity and a crisp clean taste. However, don't let that stop you from also trying our 2008 Cinsaut, a dessert wine with raspberry fruit and hints of caramel and chocolate with soft tannins and a rich lingering finish.
And because every family gathering is a celebration, why not pour a glass of our newest 2015 Sparkling Brut, Leoness Cellars' first ever sparkling wine! With its bright effervescence, it is the perfect addition to all the excitement and joy felt when gathered around the table with family!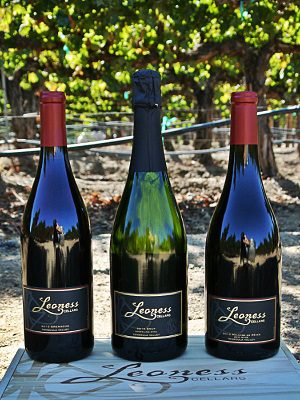 Bring loved ones together with Leoness Cellars wines. Get a taste of Something for Everything this season by following the link here! You and your guests will love the seasonal wine pairings we've carefully paired just for your celebration!
Comments
Commenting has been turned off.