February 20, 2013 | From Vine to Bottle | Leoness Cellars
Library Wine
"Just what is library wine?" some of our guests have asked. It is a select number of cases held back each year by a winery to be cellared in optimal conditions. After a few years of aging, aspiring and bonafide wine connoisseurs enjoy exploring the enriching and mellowing effects of precious time in the bottle by tasting a special "library wine" at the winery or in the comforts of their home.
Library Wine Collecting
While tasting a newly released wine that you truly enjoy at a boutique winery, we recommend that you consider purchasing several bottles or cases at the original "release" price. Cellaring favorite wines in your home will save you money since wines cellared at the winery increase in value while in the library and will cost significantly more than when they were first released.
After collecting your own treasured "library wines," try opening a bottle at different intervals to experience the results of their aging. You may want to keep a wine journal to make note of the subtle changes over time as the wine develops and matures.
Discovering Hidden "Liquid Treasure" during a private Library Wine Tasting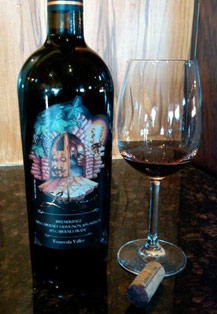 With eager expectation all eyes were on a special bottle of a Limited Series Leoness Cellars wine as we uncorked the very last bottle in the winery. Only 218 cases were produced for this 2003 release.
Alas the cork arose revealing an almost blackberry syrup-like appearance. This wine's seven-year-rest had left its rich mark on the cork. A generous coat of inky sediment clung to the cork like gold- leaf overlay married to an ornate and costly wood carving.
A sniff of the cork revealed a hearty aroma reminiscent of aging whiskey in oak casks.
With a swirl of the glass, guests began to comment on aromas
of boysenberry, black licorice, cedar and aged tobacco.
To taste this wine was to taste dark licorice, coffee and subtle hints of boysenberries with a smooth and peppery finish.
Library wine tasting experiences such as this one typically engage all of the senses assuring guests will be thoroughly entertained by the story each bottle has to tell.
2003 Leoness Cellars Limited Selection Series "Two"
In 2003 our wine maker, Tim Kramer blended Petit Verdot, Merlot and Cabernet Sauvignon to create this first in the "Limited Series" of wines created for our Leoness Cellars wine club members. Our Limited Selection Series "Two" is sold out, but we have more recent Limited Series wines in the library and a new one waiting to be released!
Comments
Escorts in Delhi
@ Aug 5, 2022 at 11:21 PM
Situations turns from time to time and we will be getting all the appropriate knowledge about this.