February 22, 2013 | Friends and Family | Leoness Cellars
The five "A's" in Hospitality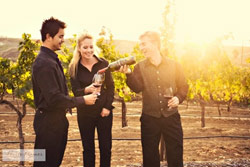 Acknowledge
Act
Anticipate
Assess
Ask
If you are investing your precious time and money in a Resort stay,
a Winery Tour, Wine purchases, or a Wine Club membership in Temecula Valley,
Southern California Wine Country, then I have a very important question to ask you!
Have you identified the wine country hospitality partners who will deliver a wine experience you can truly "rave" about?
If you are like me, you want to be engaged in memory-making experiences
by people who truly care. Those passionate personalities who thrive on
enchanting you with their stories and bending over backwards to enhance
your wine country escape!
But before I make my personal wine tour related recommendations, let me share a little story…
The "Five A" Recipe:
A few years ago while strolling through the local mall; I was attracted to a store with
hand-crafted leather bags, silver heart-shaped accessories and an eye-catching brand.
As I stepped into the little shop, I was greeted as if I were a treasured friend
by a kind lady who truly cared about me.
Elegance and inspiration were met by a casual and relaxed atmosphere. The stage was set and I just had to hear their story. My new-found friend expressed a passion and a pride in her brand and I hung on her every word as she educated me on the value of each hand-designed product.
Anticipating my needs, another lady came through with a platter of freshly baked cookies. Needless to say she earned five more points on my customer service rating scale. And my new friend brought me a bottle of water as well.
During our visit, she discovered that I had a wife and a daughter. My friend then showed me a few items that she felt my girls would appreciate. Practically leading me by the hand, she made my shopping easy and fun.
With the original intention of buying a gift for my wife, I was now ready to purchase a special gift for both my wife and my daughter. I spent more money at one time than I usually do, yet I felt really good about it!
I am forever a "raving fan" and I frequent this special little shop every chance I get.
My friends followed my "Five A's" in Hospitable Guest Services:
1. They acknowledged me immediately and authentically
2. They acted by engaging me and telling their story
3. They anticipated my desires and needs by offering generous hospitality
4. They assessed my taste and my situation in order to fulfill my desires and needs
5. They asked for the sale, providing me with a way to take my experience home
and share it with loved ones
As you plan your Temecula Wine Country getaway, you will no doubt want to make your escape as easy and memorable as possible. And if you pick hospitality partners who follow the "Five A's" recipe, you will have invested your time and money wisely.
My Recommendations:
Most Temecula Valley Wineries, Resorts and Transportation Companies are family owned. You are likely to meet the owners, wine makers and other colorful personalities who will make your winery visits most memorable.
And in the Temecula Valley we live the "good life," graced with hospitality and generosity every single day! So quite honestly I would be hard pressed to identify a hospitality partner that I wouldn't recommend in Temecula Wine Country.
Below I've listed a sampling of resources where your discovery should begin:
Visit www.temeculawines.org to acquaint yourself with our Temecula Wineries.
Search selected wineries at www.yelp.com to read guest reviews
Visit www.gogrape.com for a turn-key wine tour package where their team lives by the Five "A's" every day!
Visit www.sunriderwinetours.com for an adventurous winery and vineyard jeep tour.
For classy, "Five A" wine country transportation visit: www:avtotlimo.com, www.wctrans.com and www.lifestyletransportation.com
For the perfect culinary experience, weekend getaways and quaint over-night accommodations visit: www.temeculacreekinn.com
And please make a tasting and tour reservation at Leonesse Cellars where we specialize in "The Perfect Wine Experience" every day.
Comments
英文LV3
@ Aug 22, 2022 at 4:44 AM
We absolutely love your blog and find many of your post's to be exactly I'm looking for. can you offer guest writers to write content for yourself? I wouldn't mind creating a post or elaborating on many of the subjects you write related to here. Again, awesome web log!
dsgggd
@ Oct 27, 2022 at 7:51 PM
fwetsdgagsdgdsa
dsgasdg
@ Oct 27, 2022 at 7:51 PM
dsagadgs
Commenting has been turned off.